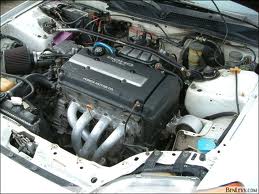 Professionally Rebuilt Honda B18C1 for Sale
Do you have a B engine and want more power when you accelerate? Does your Civic need an engine transplant? Our Honda engines will give you the change that you need to take your car to its limits without damaging it. We have the B18C1 for sale that was taken directly out of the Integra GS-R in Japan. Our JDM engines have been the choice of thousands of customers that appreciate low prices, quality customer service and fast shipping.
1994 to 2001 were the glory years of the Integra. Millions of these cars were produced and purchased by Honda drivers around the world. The U.S. domestic market welcomed the GS-R with open arms as direct competition with the Civic. The 170 hp of our B18C1 for sale is recognized instantly by Civic owners that want to swap out their B engine for this high performance model. Our Honda VTEC engines coupled with a manual transmission do exactly what racers and enthusiasts love.
No Games or Tricks with Our B18C1 for Sale
We know the kind of tricks played on you in the aftermarket and salvage market. We refuse to sell you a rusted out engine with high mileage and call it a sweet deal. We have an entire staff of engine specialists that love the B18C1 VTEC engines just as much as you do. We know how to inspect each engine we buy for damage and test its performance with our dyno testing. Every B18C1 for sale goes through this stringent process before we will sell an engine to you. We do not play games or mislead you when describing our engines.
Your satisfaction is our number one goal. We want you to buy our engines for sale not run away when you are in sticker shock. Our prices are super low because we have spent the time developing relationships around the world with dealers and suppliers. We offer the Honda B18C1 for sale at a great price to help you swap out your current engine or to save money compared to buying a new one. Your Civic or Integra GS-R will benefit from our clean, inspected and rebuilt JDM engines.
Ordering Our Honda B18C1 for Sale
We do not make it complicated to order our engines. We know that you might be on a tight schedule and want you to receive your engine quickly. Get a free quote for our B18C1 for sale using our quote form. We will provide you with accurate pricing. Call our engine specialists toll free at (866) 289-3100 to order. All of your questions are answered and we ship the same day. It is that simple.