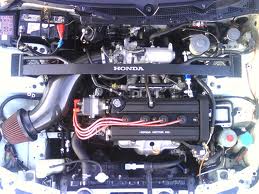 Huge Discount on Our Honda B20 Engine for Sale
One of the things that drivers appreciate about Honda B engines is the fact that they can be swapped in many different Honda cars that were manufactured after 1992. The B engines are an alternative to the VTEC engines used in Civics. This has helped many Honda K engine owners to find a suitable engine to put into their cars. We know it is difficult to find a good price on a B20 engine for sale. We discount our engines to find the right price point that reflects the condition and mileage.
The high redline ratio and impressive horsepower of the B engines helps achieve racing performance in a compact car. Honda expanded on the B technology and many race teams have implemented these engines to maximize racing performance. Our B20 engines for sale are rebuilt to capitalize on pushing horsepower to its limits. If you are searching for a good engine to swap, this Honda engine will give you what you need without the expensive cost of a new engine.
Guaranteed Start Up for Our B20 Engine for Sale
Buying JDM engines online can come with unexpected problems if you are not careful about what you buy. We have heard some bad stories about some engine retailers that sell engines that do not start up or that are littered with rust. We eliminate these types of problems in our engines. We guarantee that every B20 engine for sale in our inventory will start up upon arrival to your door. We know this because we are the ones that rebuild and test our engines.
There are plenty of times when we discover a bad part during inspection. This why we put so much emphasis on testing, cleaning and rebuilding engines to sell. We replace defective parts with OEM replacements or certified Honda parts. Every B20 engine for sale has had a performance test and measurement of fluids to guarantee that it will function perfectly in your Honda car. Our engine specialists never cut corners or use cheap parts to increase our profits.
How to Order Our B20 Engine for Sale
Our free quote form starts the research process required before we can sell an engine to you. We must be 100 percent certain that we have your engine in stock and our price is correct. You will be emailed the price you pay and we never persuade you. You can call us toll free at (866) 289-3100 if you have questions. We do everything in our power to make sure you are satisfied. We ship engines immediately after your order is complete to eliminate shipping delays.