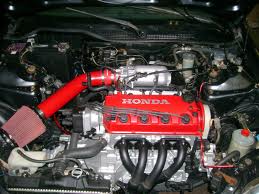 Honda VTEC D16Y8 for Sale
Honda creates consistent cars that break new ground in terms of street performance and longevity. The D engine has evolved since its first introduction inside Honda cars in the late 1980s. With a high redline limit, Civic and Del Sol drivers can push a D engine to the max. We have the D16Y8 for sale at a price that is found nowhere else online. The 1.6L displacement of the D engine helps create the high horsepower that is achieved during acceleration. This is one of the lasting benchmarks set by Honda.
Every D16Y8 for sale in our inventory is purchased from reputable sources before final sale to you. Our JDM engines have been stripped and cleaned correctly by experienced engine specialists. Every part is removed and inspected for quality. When we overhaul a Honda D engine, we replace defective parts with OEM parts or certified Honda replacements. This ensures that every D16Y8 for sale meets the high standard of performance that you expect in remanufactured JDM engines.
Rebuilt VTEC D16Y8 for Sale with a Warranty
Although the JDM engine market is known for quality, we still provide an extended warranty to you when you make a purchase. Our reasoning for this is simple to understand. Our D16Y8 for sale is rebuilt professionally and tested before it is offered for sale. We analyze the combustion ratio and check the fluid levels for evaporation. After these tests are performed, we still warranty the parts that are replaced by us. It is our responsibility to give you a perfectly functional and low mileage D16Y8 for sale. We eliminate any surprises that can happen after installation.
We let the other engine retailers online sell unverified used engines. We have no control over their way of doing business, but we make a promise to treat our customers with respect. We stand behind our engines with our personal guarantee and extended warranty. Every Honda D16Y8 for sale is one more chance to prove to body shops, mechanics and car owners that we take selling engines seriously and provide the very best. We sell you a clean engine that is comparable to a new engine without the high price tag.
How to Order Our Honda D16Y8 for Sale
We provide two ways to get our low price for the JDM engine you need. You can call our engine specialists toll free at (866) 289-3100 or complete our online quote form. We let you decide how you want to order our D16Y8 for sale. Our friendly and informative engine specialists are great at answering your questions and ship your engine out the same day your order is completed.