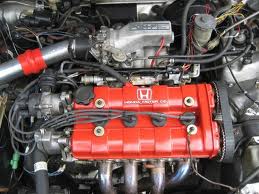 Rebuilt Honda D16Z6 for Sale
It is hard to find a better engine that offers up to 150 hp. These engines are equipped with single overhead cams and double overhead cams depending on the Honda model that you own. One of the things that you will love about our D16Z6 for sale is that this model includes the VTEC technology. An electronic sensor automatically switches between single or dual camshaft styles to improve your engine efficiency at higher speeds. Our D16Z6 for sale produces absolutely clean emissions.
Rock Bottom Pricing for Our Honda D16Z6 for Sale
We know there are a lot of engine dealers that have varying prices. The majority of sellers make claims that are untrue about the quality of their engines to get you to click the buy button. We avoid this approach and treat you better than that. Our Honda D16Z6 for sale is priced to sell quickly. We do not have old engines sitting in stock begging for someone to buy them. Our inventory moves fast because we know how to treat customers right. The price we quote you for a D16Z6 for sale is the only price you pay plus the actual shipping.
We deal exclusively with JDM engines. This provides us with an advantage in the Japanese engine market. Our engine specialists know these engines inside and out and only buy the absolute best. We offer an extended warranty on these rebuilt engines as an additional assurance of our quality. Every D16Z6 for sale in our inventory includes this warranty. We are 100 percent sure that you will be satisfied with your purchase after our engines arrive.
How to Order a Honda D16Z6 for Sale
We use a quote form to acquire some basic information about the engine that you need. We have found this system to be more reliable than placing items on our website that we do not have in stock. One of our engine specialists will email you with our price and shipping quote. You can call (866) 289-3100 to order by phone or to ask questions about our D16Z6 for sale.