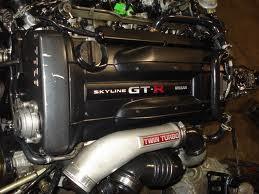 Cleaned and Tested Nissan RB26DETT for Sale
The Nissan Skyline GT-R was coupled with this 2.6L I6 engine to compete with Honda and Toyota for a share of the high horsepower market. The TT in the engine code represented the twin turbo power system. This system is unique in that is uses three cylinders for front power and three for rear power to achieve maximum acceleration. A boost restrictor was installed to regulate the pressure of the engine. We have the RB26DETT for sale in our inventory at a price that is so low that we cannot publish it online.
Since we specialize in JDM engines, we know the Japanese market better than average engine dealers that buy used or scrap engines. We know what the Nissan performance specs are and only buy engines that meet our high standards of quality. Every RB26DETT for sale in our inventory has been rebuilt and tested. We do this to make sure there are no issues during operation.
Why Our Nissan RB26DETT for Sale is Dirt Cheap
We rarely buy one engine. When we make a purchase, we buy in bulk to make sure that we save money and we can pass the same savings along to you. It is expensive to crate and ship one JDM engine from Japanese suppliers. Our engine buyers know how to get great deals on low mileage engines and we make a huge purchase when the deal is right. Every one of our engines including the RB26DETT for sale is priced as low as we can go and still operate our business. We sell cheap engines, but they are not cheap in terms of quality.
The years of production on the Nissan RB engines was 1989 to 2002. One of the misconceptions is the actual horsepower that can be achieved. The RB26DETT for sale has a 280 hp rating, but many Nissan owners have reported much higher numbers even as high as 600 hp. Maximizing the horsepower requires a clean and serviced engine. Every engine that we sell is very clean and has been taken care of by previous owners. This helps us keep our prices low for every RB26DETT for sale.
How to Order our RB26DETT for Sale
Our quote form is used to give you the exact price you will pay and helps us monitor our inventory levels. Our engines are sold quickly and we want to provide an accurate price and in stock level for you. If you have questions, call our engine specialists at (866) 289-3100 and ask them about our RB26DETT for sale. We want you to be satisfied with your engine and buying from our JDM engine company.