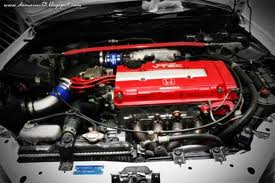 JDM Honda VTEC B16A2 for Sale
The Honda Civic broke ground in 1972 as one of the smallest two-door subcompact cars ever produced. One of the most popular features included in this early version was an AM radio. Honda knew that they had something special, but it was not until research and development produced what we know today as the modern Civic. The B engine from Honda made its way into Civics in 1989 and it was not until 1992 that the VTEC changed the course of popularity for Honda engines. We have the B16A2 for sale that fits into your Civic ready for fast shipment.
The success of the B engine encouraged Honda to try this engine out in other models that were being developed in the early 1990s. The CR-X del Sol was made with and without the VTEC technology as an economical option for drivers that did not require the 160 horsepower that the B16A2 engine provided. Almost 20 years of development and production went into this popular engine. Our B16A2 for sale is available at the lowest price online.
Low Mileage B16A2 for Sale with a Warranty
High mileage is not a terrible thing to have on an engine that is cared for and serviced professionally. We make sure that every engine we purchase has the lowest mileage that we can find from our network of worldwide suppliers. We have an entire staff of engine specialists that handle all of our acquisitions to make sure we offer only the best Honda B16A2 for sale to you. Each engine that we purchase is tested for performance, oil pressure and gasket leaks that can be problematic for you after installation if not checked before the sale.
You will not always find a warranty when you purchase JDM engines online. Not every dealer has the same definition of quality as we do. Instead of taking your money, we sell you a serviced engine with low mileage and our extended warranty is free of charge. This means that every B16A2 for sale that is purchased is protected against defects and will be guaranteed to start up after installation is completed correctly. We promise to treat you better than our competition treats you.
How to Order Our B16A2 for Sale Today
Call our toll free number at (866) 289-3100 and speak to our engine specialists if you have questions. We want you to be totally satisfied with your purchase and not keep you in the dark about the quality of our engines. Fill out our quote form to get a fast price quote by email. Be prepared to receive a killer price on a B16A2 for sale.